Discounts and Rebates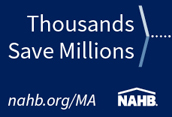 NAHB Membership Advantage: As a benefit of being a member, you have access to discounts and savings opportunities offered by many top companies.  Company discounts include: HOUZZ, Capital One, Fiat Chrysler America, Lowe's, General Motors, UPS, and much more! Visit www.nahb.org/ma for the complete list of details.

National Purchasing Partners:  HBAV has an agreement with National Purchasing Partners to offer HBAV members discounts on services used daily.  Discounts include: Up to 22% discount on Verizon Wireless Plans, other savings discounts offered by Sherwin Williams, Office Depot and more!  Signing up is easy, simply click on this link  https://mynpp.com/association/hba-of-virginia
Rebates on Building Materials:  HBAV partners with HBA Rebates to provide member rebates on over 50 of the country's leading manufacturers.  The average rebate per Builder/Remodeler in 2017 was $1,206.93. This program offers the same rebates as the "Top-5 Builders" receive regardless of a builders volume.  Registering is easy, visit https://www.hbarebates.com/hbav.html
Insurance for your company, personal lines, and your employees:  HBAV Insurance Agency proudly represents over 15 elite and diverse insurance companies that share their core values of trust, honesty and integrity. HBAV Insurance Agency has built its business around catering to the needs of members of the Home Builders Association of Virginia by marketing competitively priced and high-quality insurance products.  Through its partnership with Premier Insurance Agency, the HBAV Insurance Agency knows that all clients require exceptional knowledge and attention.  HBAV Insurance Agency is truly a one stop shop.  For more information, contact Craig Toalson.
Each month, HBAV sends out an E-newsletter that details the work that HBAV is doing on the industries behalf.  HBAV is also in the process of updating our website to better communicate with our members.
Sign up for HBAV News & Updates