JOIN US!
You're a builder or housing industry professional with a lot on your plate, so we'll keep it short: we're here to protect Virginia housing.
You're a builder or housing industry professional with a lot on your plate, so we'll keep it short: we're here to protect Virginia housing.
We know what keeps people in our industry up at night, because it's the same things that keep us awake, too – overregulation, labor shortages, lot availability, and the future of affordable homes for all. We exist to fix what's broken and protect what's not, and we've been at it for over 70 years.
Being a member through our 3-in-1- structure (local, state, and national representation) not only guarantees you a place on the field to help your business and homeowners flourish, it's also–if we may say so ourselves–quite a deal. We provide a variety of return-on-your-dues benefits and programs that'll help your business–and your wallet.
CLICK HERE FOR OUR LOCAL ASSOCIATIONS
If you want:
A slice of the action instead of watching from the sidelines
To effect positive change in your local communities and beyond
A better night's sleep when it comes to your industry knowing you're doing all you can to make it great
Then consider membership with us today. Over 3,000 builders, associates, and affiliates have already done so. Scroll down to learn more.
YOUR MEMBERSHIP WITH HBAV:
We believe that builders and homeowners should have the resources they need and the rights they deserve to achieve their dreams, and we here at HBAV have been working hard to guarantee that since 1952.
Being a part of HBAV guarantees you a place on the field–rather than just watching from the sidelines–when it comes to improving the Virginia housing industry, saving builders & homeowners tens of thousands each year in improved laws and regulations. Better business and the greater good? That's right — you can have both.
With Builder, Associate, & Affiliate memberships available (for more information on membership types, click here), HBAV has something to offer anyone in or involved with the home building industry.
What You'll Get with Your Membership
Access to the latest industry related news and information on the ever-changing regulatory and legislative environment.
Complimentary use of Member Hotline – your one-stop shop for legal, building code, and construction safety questions. Insider news and regulatory updates on issues affecting the Virginia housing industry
Real, return-on-your-dues affinity programs, including a hassle-free rebate program, continuing education discounts, exclusive business insurance services, small business coaching & consulting opportunities.
​
What Opportunities You Have With Your Membership
Direct participation in pro-housing advocacy efforts (See our successes)
Business, networking, & leadership opportunities through a variety of professional, educational, and social events (See HBAV events list)
Increased credibility & visibility for consumers
Cost Per Year – $162.50
YOUR MEMBERSHIP WITH A LOCAL ASSOCIATION
15 local associations throughout the state serve as entry points to our 3-in-1 membership structure, providing the benefits of membership at the community level. While the programs and services provided vary by local, here's a general snapshot:
What You'll Get With Your Membership (varying by local)
Eligibility to participate in Parade of Homes, Home Expos, & other professional events (including, for some, additional discounts and incentives)
Discounts on continuing education
Listing in consumer-facing membership directories and publications
Direct participation in advocacy efforts at the local level
Leadership, networking, and lead generation opportunities through local events
Increased visibility and credibility under the local brand
Cost Per Year – Varies by local (to be combined with state & national dues)​​
​To find your local association listing, click here. If there is not a local in your area, Member-At-Large memberships are available!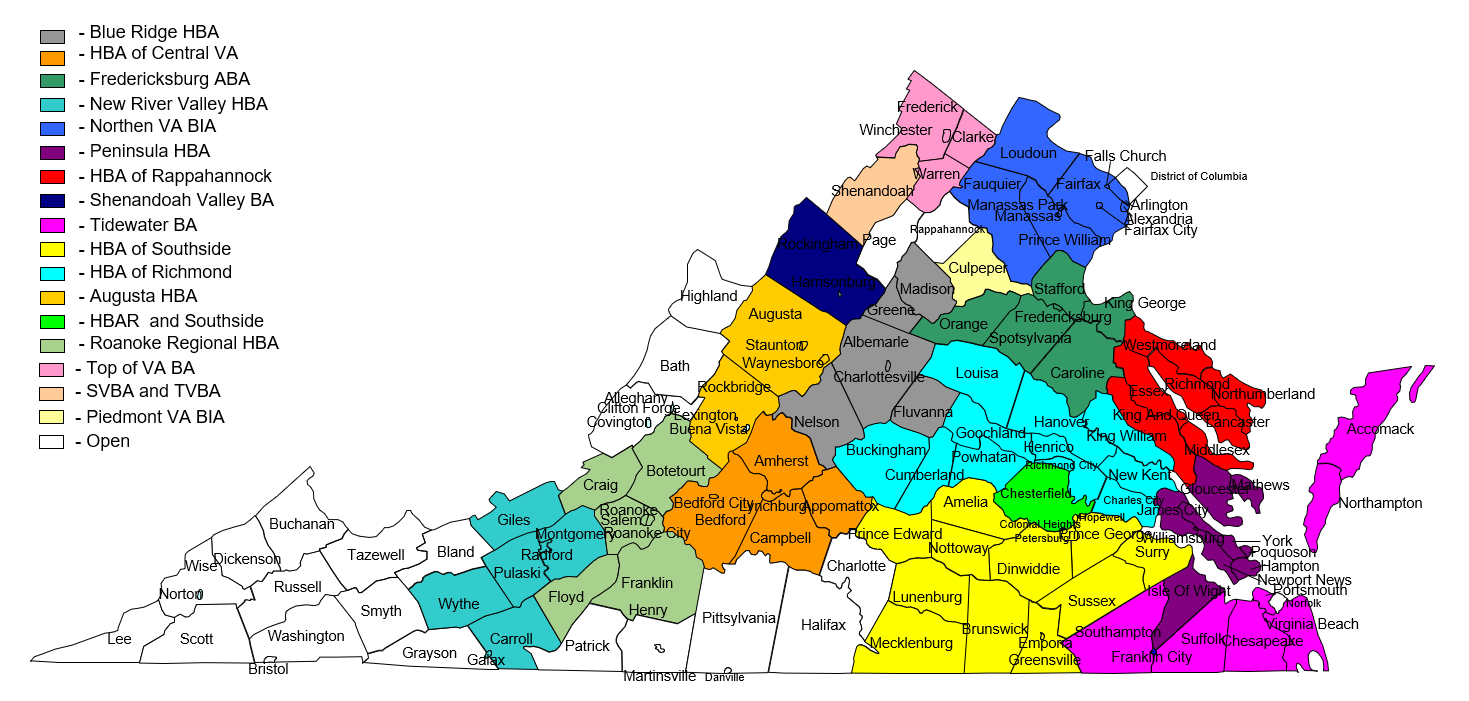 YOUR MEMBERSHIP WITH THE NAHB
NAHB strives to protect the American Dream of housing opportunities for all, while working to achieve professional success for its members who build communities, create jobs, and strengthen our economy.
A federation of more than 700 state and local associations, NAHB represents more than 140,000 members. About 1/3 are home builders and remodelers. The rest work in closely related specialties such as sales and marketing, housing finance, and manufacturing and supplying building materials.
What You Get With Your Membership

Deep discounts on vehicles, shpping cell phone plans, computers, car rentals, office supplies, and more through the NAHB Member Advantage program
Online course discounts and other ways to save on continuing education
NAHB Designations training
Access to building code liaisons
Discounts on building industry education, training products, and market reports​
What Opportunities You'll Have with Your Membership
– Being on the front lines defending housing and home ownership at the national level (see recent wins).
– Invaluable networking opportunities (clubs, local receptions, monthly membership meetings, trade shows, and the – International Builders' Show)
– Leadership development opportunities (a variety of specialized committees and councils).
– Recognition opportunities (NAHB Awards Programs)
​
Cost Per Year
$196 (NAHB cost only, to be combined with state & local dues)
Questions?
Kathy Harley, kharley@hbav.com
Director of Administration & Finance
Without HBAV Government Affairs program, builders and developers would have no protection from overburden some legislation and regulation.  HBAV allows me the opportunity to operate a successful business in Virginia.
Vince Napolitano
I get the most out of the HBAV networking and leadership opportunities.  Whether it's networking events at my local association, attending the HBAV Annual Conference, or NAHB International Builders Show.
Rob Frogale
Sign up for HBAV News & Updates